Installations on Water-Green Boulevard in Astana.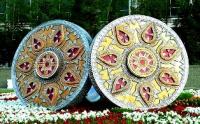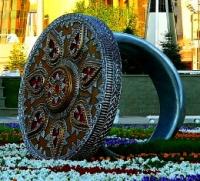 City Guide Astana.
"Patience to that sorceress is like,
That water can turn into pearls"
Jami Abdurrahman.
Best photos of Astana.
The installation in the form of giant rings and bracelets can be seen on the territory of the Water-Green Boulevard in the city of Astana, among lush and colorful flower beds.
Like ornaments of a scattered beauty, they are scattered throughout the boulevard as decorative elements.
Huge rings up to two meters high are made of bronze, plastic, glass, stone and metal. Fancy creations are decorated with traditional Kazakh ornaments that reflect the history of the state, and are designed to recall the importance of cultural traditions in this type of jewelry.
One of the bracelets stores the hologram "vertical layout of the Nur-Sultan map."
Authority:
http://reactor.inform.kz/samye-interesnye-pamyatniki-astany-a3656