History of St. Sophia Cathedral in Verny.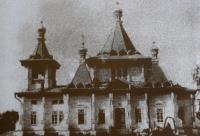 Tours in the cathedrals of Almaty.
"The whole life of a Christian must be continuous great prayer"
Guided tours of the churches of Almaty.
Formerly Cossack, St. Sophia Cathedral (consecrated in honor of the holy martyrs Faith, Hope, Love and their mother Sophia) is the oldest church in the city of Verny (Alma-Ata). It was built by architect Brusentsov in 1895 on the site of an earlier cathedral, erected in 1871 and destroyed by an earthquake in 1887.
This ruined parish, in turn, arose on the site of a house of worship built in 1855. This date borders on the year the city of Verny was founded, which allows us to speak of St. Sophia Cathedral as the first church in the capital of Semirechye.
According to the memoirs of 1858, one can imagine the consecration of St. Sophia Church. In the evening, they served all-night service, all the first settlers and newly baptized from Kalmyks, Chinese, and solons sang and read.
There were up to eight singers on the choir, all from Siberian Cossacks, trumpet musicians. Old women in neat, strict clothes, straightened candles and lamps. Old chintz shirts, belted with painted sashes, lit up the chandeliers. Many laymen and officials came to worship, the people were visible and invisible.
At eight in the morning, Major G.A. Kolpakovsky divorced and the Za-Ili squad teams lined up in a square. Priest Evtikhii Vysheslavsky made a church parade, with a liturgy and blessing of water from a mountain stream.
Upon completion of the thanksgiving prayer from the ramparts, a multiple cannon shot was fired, under the volleys of which the people with icons and banners, accompanied by all those present, walked around the newly-found fortification, renamed Vernoye.
According to the name of your city, let your life be!", The priest said. The bright ritual of consecration of the St. Sophia Church united the first settlers, cemented them with faith and hope, gave a ticket to the life of the city arising in the foothills of Alatau.
Authority:
https://mitropolia.kz/info/organizations/monasteries/623-iversko-serafim...http://proskurin.ucoz.kz
Photos:
The book "Holy Ascension Cathedral", 2006.