History of Khiva.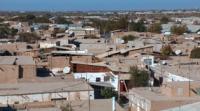 Foreign Independent Tour across Uzbekistan.
"...transfer to Samarkand the entire population - residents of the city and region, and the city of Khorezm, completely destroyed, sow with barley"
Amir Temur.
Group inclusive tour in Uzbekistan. 
A long time ago, when men were men and gods took a practical interest in their affairs, Shem, son of Noah, was roaming the Kara-Kum desert with his tribe. He dreamed he saw a thousand soldiers marching over the dunes bearing torches, and told his people to build a hill of sand to mark where he had dreamed.
His people became thirsty. Being a full day's walk from the river they dug a hole, and struck water, and the water was sweet. Khei-vakh! they cried. 'What wonderful water is in the well!'
Thе city that grew up round the Kheivak Well was named 'Khiva' after it; the well itself can be found at 107, Street Abdullah a-Baltal, in the north-West corner of the old town. Rarely do myth and reality merge so happily.
Siyavush, the runaway city-founder usually associated with Bukhara, is also mentioned in connection with Khiva. The Arab historian Al-Biruni said he turned up here around 1200 B.C., but there is no archaeological evidence that old, of the man or the place.
Elsewhere in Khorezm, archaeologists tell a different story. Nowadays the Amu IW delta shows up on satellite photos as a lonely green smudge in an ocean of brown 1 4000 B.C.it was a much larger smudge.
The river did not reach the Aral Sea, running out instead into a vast marshland dotted with sandy islets on which man lived in big oval shelters in extended families of up to 200. The Soviet archaeologist assigned exclusively to this area reckoned the Amu Darya brok through to the Aral Sea (till then fed only by the Syr Darya) around 2000 B.C.
The marsh- land shrank, and the people of the new delta came to depend on irrigation they built hemselves. Another expert, Edgar Knobloch, says these irrigation systems 'shrank and expanded in a way curiously connected with historical events, with the wealth of the country, the growth and decline of the population, the flow of world trade, internal and external security, and other phenomena'-which is reassuring, giving hope that the irrigation systems which have destroyed the Aral Sea might now shrink like the Soviet empire that built them.
Authority:
«Khiva city and legends» the tourist guidebook across Khiva".