Halk hakydasy in Ashgabad.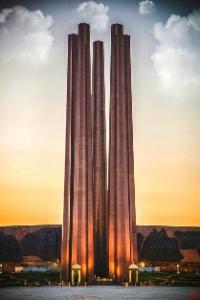 Train Travel in Turkmenistan. 
"In 2014 in Ashgabad the memorial complex "Halk hakydasy", for preservation and honoring of the national heroes who died on fields of battles of Geoktepinsky fight and on fronts of the Great Patriotic War of 1941 - 1945 which gave in other battles of life is built"
Tourist Places in Ashgabad.
The memorial complex "Halk hakydasy", is in a southwest part of the capital of neutral Turkmenistan of Ashgabad.
The memorial occupies the space of 650 000 square meters. The memorial complex includes: the monument erected in honor of a victory to the Great Patriotic War of 1941 - 1945.
Monuments which immortalized memory of the heroes who fell for the country and the victims of the Ashgabat earthquake of 1948.
These are majestic symbols of deep honoring of outstanding national heroes, respect of the Turkmen people for the memory in the past.
Also here the museum is open and the building for carrying out a saadak on the occasion of Day of remembrance is built.
Around monuments there are unique fountains, around symmetric green lawns, flower beds, walking paths are constructed, decorative lamps and benches are installed.
Authority:
On materials of information department of the State committee of Turkmenistan on tourism and sport.