Glaciers of Ailama.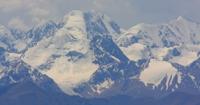 Tourism in the mountains in Kyrgyzstan.
"I am awfully greedy; I want everything from life. I want to be a woman and to be a man, to have many friends and to have loneliness, to work much and write good books, to travel and enjoy myself, to be selfish and to be unselfish… You see, it is difficult to get all which I want. And then when I do not succeed I get mad with anger" 
Simone de Beauvoir.
Mountain ranges and peaks of Kyrgyzstan.
Ailama Glacier. The largest on the southern slope of the Köoluu-Too ridge is the complex Ailam valley glacier, 5.1 kilometers long, 15.3 square kilometers in the upper Terekty River. It consists of four ice flows merged with the ends.
Recently separated from him a large right tributary with an area of ​​8.9 kilometers square, but part of it is not connected with the Aylam glacier with a common moraine with buried ice. It is planned to separate another left tributary.
The ends of the valley glaciers on the northern slope of Köoluu-Too descend on average to an altitude of 3770 meters above sea level, on the southern - to an altitude of 3800 meters above sea level. The height of the firn line is 4,000 and 4,160 meters above sea level, respectively.
Authority:
"Glaciers." L.D. Dolgushin, G.B. Osipova. Series "Nature of the world." Moscow, the publishing house "Thought". 1989.
Photos
Alexander Petrov.