Glacier of Kuyukap.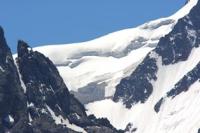 Seven Wonders of Kyrgyzstan.
"Travel brings power and love back into your life." 
Rumi.
Natural and unnatural wonders of Kyrgyzstan.
Kuyukap Glacier, with a length of 12.9 kilometers, an area of ​​18.4 square kilometers The firn region, located in a huge glacial gorge, is connected through the pass with the main stream of the Komsomolsky glacier.
Small glaciers are located on the Maybashtau ridge and on the western slope of the Kakshaal-Too ridge, in the upper reaches of the Sarytor, Dzhamansu and Dzhangiger rivers. In total there are 33 glaciers with a total area of ​​30.5 square kilometers.
In general, the glaciation of the Central Tien-Shan is reduced. This is evidenced by fresh moraine ridges, subsidence terraces, buried sections of dead ice. Many tributaries of large glaciers have recently separated from them, and some are in the process of separation.
Authority:
"Glaciers." L.D. Dolgushin, G.B. Osipova. Series "Nature of the world." Moscow, the publishing house "Thought". 1989.
Photos by
Alexander Petrov.