Geoglyph "Turgai swastika".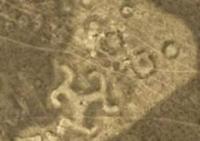 Adventure tours in Kostanay region.
"The fallen ramparts, and the ditches of their former depth, deprived, testify to the antiquity of this place"
Nikolay Rychkov. "Day notes of a trip to the Kirghiz-Kaysak steppe." 1771.
Geoglyph in Kostanay region.
Geoglyph "Torgai trikvetr" or Torgai three-beam swastika is located at an altitude of 144 meters above sea level, located 520 meters west of Lake Agashtykol, in the eastern part of the Torgai hollow, 812 meters from the left bank of the Kara-Torgai River, 600 meters to the south -east of the village of Agashtykol, 15.7 kilometers southeast of the village of Amangeldy in the Amangeldy district of the Kostanay region.
The geoglyph is an earthen mound built in the form of three beams, each of which ends in a zigzag figure, the ends of which are bent counterclockwise.
The swastika fits into a circle with a diameter of 90 meters. The height of the embankment is up to 0.3 meters, the length of the beam is about 33 meters, the width at the base is 13 - 15 meters, the width at the end is 10 - 12 meters.
Zigzag figures 40 - 50 meters long, 5 - 6 meters wide, the length of the curved parts is 15 - 20 meters. In the center of the structure there is a depression with a diameter of 4 meters and a depth of up to 0.3 meters.
Near the structure there are small mounds with a diameter of 10 - 15 meters, a height of 0.2 - 0.3 meters, surrounded by a moat. Earthworks were not carried out at the site, so as not to expose it to destruction. This structure can be dated according to the available features in a wide range from the Bronze Age to the Middle Ages.
Archaeologists suggest that the Torgai swastika determined belonging to a clan or community. At 354 meters to the northwest there is an earthen square with the dimensions of the sides: south - 104, north - 103, west - 87, east - 89 meters.
The area of the square is 9147.18 square meters, the perimeter reaches 385.55 meters. At 238 meters to the west and a little to the south is the so-called "Torgai dumbbell". "Torgai dumbbell" is an earthen embankment with a length from west to east of 121 meters, a width of 4 - 5 meters with thickenings at the ends.
Geographical coordinates of geoglyph "Torgai Swastika": N50°06'12.09" E65°21'40.33"
Geographical coordinates of geoglyph "Torgai dumbbell": N50°06'07.91" E65°21'26.15"
Authority::
http://turgay.kz
Logvin Andrey Viktorovich, head of the laboratory of archaeological research, Kostanay State University named after A. Baitursynov.
Shevnina Irina Viktorovna, Ministry of Taxes and Duties of the Laboratory of Archaeological Research, Kostanay State University. A. Baitursynov.
Dey Dmitry Borisovich, head of the Turgay Discovery project. Alexander Petrov.