Geoglyph "24 burial mounds".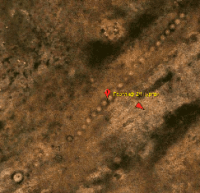 Tours to geoglyphs in Turgay.
"The one who is unreasonable in life and behaves like a liar, Who cannot keep secrets - dies at last."
Rustaveli Shota.
Natural secrets of Kazakhstan.
The geoglyph in the form of 24 burial munds is located at an altitude of 179 meters above sea level, located 2.7 kilometers east of the right bank of the Kabyrga River (Ulkayak River basin), located 28.4 kilometers southwest of the village of Shili, 80 kilometers northwest of the village of Torgai, 52.7 kilometers southwest of the village of Bidayik, in the Dzhangeldy district in the southwestern part of the Kostanay.
region.
The geoglyph "24 buria mounds" is oriented from the southwest to the northeast. The line of burial mounds consists of 24 small mounds, each 10 to 11 meters in diameter. At 120 meters to the south-west of the burial mounds there is a mound with a diameter of 22 meters.
Geographical coordinates of geoglyph "24 burial mounds": N50°19'37.02" E63°07'51.97"
Authority and photos by
Alexander Petrov.