Fortress Khoja-kazgan I.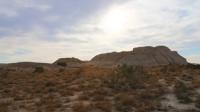 Visiting to cities of Kazakhstan.
"The first law of history is to be afraid of any lie, and then not to be afraid of any truth."
Mark Tullius Cicero.
Travels and adventures in deserts of Central Asia.
The Khoja-kazgan I fortress is located on the right bank of the Zhanydarya in its upper reaches. The monument is a square citadel in plan, framed by an external wall, which has a rectangular shape in plan. The fortress is oriented almost strictly to the cardinal points.
The citadel is quite extensive - its size is 120 x 120 meters (along the outer line of the walls). The walls, which look like huge ramparts, with very steep slopes, have survived to a height of 4 meters. On the walls there are traces of eight towers, very blurred.
Under the walls there was a moat, 8 - 9 meters wide, up to one meter deep from the takir level. The moat is overgrown with saxaul. The inner part of the citadel is also overgrown with saxaul; a large knoll stands out on it, located asymmetrically, closer to the eastern wall, apparently, these are the remains of the central building.
The entrance to the citadel was in the south wall, it is indicated by a ledge with a ramp. There is little pottery inside the citadel, it is possible that the cultural layer is almost not washed out. The outer wall framing the citadel is at a distance of 50 - 70 meters from the latter.
The settlement stretched directly to the south, for about 100 meters, right up to the channel of the Zhanydarya. Here, between the rare saxaul bushes, there are hillocks - the remains of houses, densely strewn with fragments of ceramics; a lot of pottery slag, grits.
On the bank of the channel, the foundations of the baked brick mazars have been preserved. In terms of its architectural appearance and the nature of the lifting material, Khoja-Kazgan-kala is included in the circle of early medieval "Oguz" settlements of the Inkardarya basin, having many similarities with Sarly-tam kala, Zarngar kala and sharply differing from the later ones located below Zhanydarye, medieval settlements Djent, Kum-kala.
Authority:
A.A. Tazhekeyev, R.T. Darmenov. "Bulletin of KazNU".  2012. Almaty
ttps://articlekz.com/article/7260
Photos by
Alexandr Petrov.