Fortress Karabas.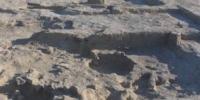 Visiting the monuments of history and culture of Kazakhstan.
"The greatest misunderstanding is to go into morality when it comes to historical facts."
Diderot D.
Excursion walks in Kyzylorda region.
Fortress Karabas is a fortified structure, located 10.8.5 kilometers west of the Chirik-Rabat settlement and 24 kilometers north-east of the village of Kikireli, on the right bank of the Zhanadarya in the Zhalagash district of the Kyzylorda region.
Discovered in 2006 by the route group of the Chirik-Rabat archaeological expedition. The fortress is trapezoidal in plan, 130 meters long on the east side, 105 meters on the west, 40 meters on the north and south.
The walls are 2 - 2.5 meters thick, the preserved height is 1.5 - 2 meters. There are towers. One of the surviving towers is quadrangular, located in the southwestern corner - 10 x 10 meters. Inside the fortress, in the southeastern corner, there is a building with an area of ​​20 x 10 meters.
The entrance to the settlement is in the western fortress wall. Stationary archaeological research began in 2014. During the excavation of the object, a rectangular room was found. Since the building was built in the corner of the fortress, the cultural layer was very poor.
The excavations have collected finds that have analogies in the materials of the Chirik-Rabat culture. It can be assumed that the structure was a military fortress and played the role of an outpost.
Geographic coordinates of the fortress Karabas: N44 ° 04'57.21 "E62 ° 46'46.99"
Authority:
J. Kurmankulov, J.R. Utubaev. "Ancient monuments of the Lower Syr Darya. http://edu.e-history.kz/ru/publications/view/268
Photos by
Alexander Petrov.