Fortified estate Sengir-kala.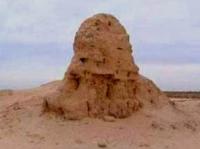 The Great Silk Road in Kazakhstan.
"History is the teacher of life"
Mark Tullius Cicero.
Trips to monuments in Kyzylorda region.
The fortified estate Sengir-kala is located in the Balandy valley, 3.5 kilometers south-east of the Balandy mausoleum in the Zhalagash district of the Kyzylorda region. Reconnaissance excavations were carried out at the site in 1972.
During the excavations, several residential and utility rooms were uncovered, the center was a large manor house, almost square in plan 32 x 31.5 meters, oriented with corners to the cardinal points. The height of the preserved walls reaches 4 meters in places.
Rooms are located around the central room or yard (15 x 18 meters) along the inner perimeter of the house walls. Excavation materials allow us to attribute the estate to the latest, third stage of the Chirik-Rabat culture.
The most interesting of the identified urban planning monuments of the Chirik-Rabat culture are the border fortresses and fortresses-barracks for the garrison - Kabyl, Alyb, Chirik 3 and Karabas.
Geographic coordinates of the Sengir-Kala fortified estate: N44 ° 07'52.79 "E63 ° 24'06.46"
Authority:
J. Kurmankulov, J.R. Utubaev. "Ancient monuments of the Lower Syr Darya. http://edu.e-history.kz/ru/publications/view/268