Fortified estate Inkar-kala.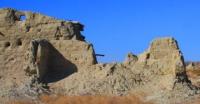 Outstanding monuments of Kyzylorda region.
"History is a treasury of our deeds, a witness of the past, an example and a lesson for the present, a warning for the future"
Cervantes.
Antiquity monuments of Kyzylorda region.
The fortified estate Inkar-kala is the center of a small agricultural oasis, which was located on a main canal that branched off from the Zhanadarya channel 5.7 kilometers southeast of the Chirik-rabat settlement in the Zhalagash district of the Kyzylorda region.
It was discovered in 2006 by the route group of the Chirik-Rabat archaeological expedition. In 2011, stationary archaeological research began. The settlement is made up of several large houses; the best preserved of these is the rectangular structure on the left bank of the canal.
The remains of its walls are 2.2 m high, the area of ​​ruins is 50 x 30 m. There are no towers and loopholes. The entrance to the fortress is visually traced in two places: in the northwestern wall of the monument in the form of a gully, and in the southeastern wall, where the entrance was blocked by a protruding flanking wall, 9 m long.
The Inkar-Kala complex is identical to the Chirik-Rabat complex. In order to clarify the stratigraphic situation and reveal the layout, an excavation was laid in the northwestern part of the site. During the excavations of the object, it was discovered that the floors of the building were often renovated and the cultural layer was very poor.
All this gives the impression of a temporary use of the building and allows us to assume, as one of the possible explanations, that we are facing a refuge house with a vast yard.
Geographic coordinates of the fortified estate Inkar-Kala: N44 ° 03'26.86 "E62 ° 58'24.23"
Authority:
J. Kurmankulov, J.R. Utubaev. "Ancient monuments of the Lower Syr Darya. http://edu.e-history.kz/ru/publications/view/268
Photos by
Alexander Petrov.