Fakhreddine-Razi mausoleum.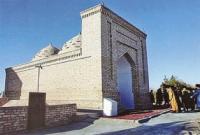 Group inclusive tour in Turkmenistan.
"Kunya-Urgench is situated in north-western Turkmenistan, on the left bank of the Amu Daria River. Urgench was the capital of the Khorezm region, part of the Achaemenid Empire. The old town contains a series of monuments mainly from the XIth to XVIth centuries, including a mosque, the gates of a caravanserai, fortresses, mausoleums and a 60-m high minaret"
Packaged tour in Turkmenistan.
Mausoleum Fakhreddine-Razi (popular name of the tomb of one of Khorezm, apparently Ile-Arslan).
XII century. Its bulk composition consists of a cube, twelve-faced prism drum and outer pyramidal dome.
The main facade is decorated with carved terracotta tiles plant and epigraphic ornament.
The interior of the mausoleum is characterized by stalactites and sail spheroid inside a dome.
Authority:
On materials of information department of the State committee of Turkmenistan on tourism and sport. "Religious and spiritual monuments to Central Asia". Author M. Hashimov. Saga publishing house, 2001.