Fakhr al-Din al-Razi mausoleum.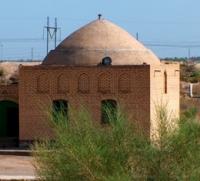 Historical Tours in Turkmenistan.
"Merv is the oldest and best-preserved of the oasis-cities along the Silk Route in Central Asia. The remains in this vast oasis span 4,000 years of human history. A number of monuments are still visible, particularly from the last two millennia"
Adventure tours in Turkmenistan.
The mausoleum of famed Muslim theologian and philosopher Fakhr al-Din al-Razi (1149 - 1209) is one of the earliest surviving structures within the abandoned medieval city of Kunya Urgench (or Gurganj). It is also popularly attributed to Anushtigid ruler Il Arslan (1156 - 72), the father of Sultan Tekesh (1172 - 1200) whose mausoleum to the immediate north bears significant influences from this earlier structure.
Though no single patron can be identified, most scholars date the mausoleum to the early thirteenth century. The structure is noted for its simplicity of form, influence on Khwarazm funerary architecture and its emphasis on roof silhouette and color.
The mausoleum consists of a twelve-sided pyramid dome and drum, atop a tapering brick cube. Small arched niches with stone grille openings articulate the unadorned brick facades of the square chamber. A course of brick on edge emphasizes the cornice in contrast to the cube's predominantly horizontal brick courses.
The dome drum features rectangular perforated stone windows aligned directly above the square chamber's windows. The pyramidal roof is adorned with glazed blue tiles, laid vertically and arranged in diagonal square patterns against an ochre, horizontal-course brick base.
The mausoleum's decorative brickwork was supplemented by hand carved designs in terracotta that served as a lining to the structural walls.  The mausoleum's carved terracotta facings were created through a time-consuming and labor-intensive process.
Intended elevations were first laid brick by brick on the ground and coated with clay. This facing was then carved and cut into panels to be fired and reassembled on the façade. The adjacent Sultan Tekesh mausoleum and Kutlug Timur minaret have secured the state's attention, despite single-minded tourist attention on neighboring Khiva's World Heritage Ichan Kala site. 
Authority:
Borodina, Iraida. 1987. Central Asia. Gems of 9th-19th century Architecture. Moscow: Planeta Publishers, 24, 39. Knobloch, Edgar. 2001. Monuments of Central Asia. New York: I.B. Tauris, 38.
Photos
Alexandr Petrov.