Dulygaly Mosque.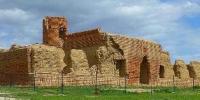 Excursion Ulytau.
"The soul could protect the body from all losses, until the earthen door was closed."
Maarri al-Maarri.
Go sightseeing Ulytau.
Dulygaly Mosque is located at an altitude of 220 meters above sea level, located in the Zhangeldy rural district, 131 meters from the right (northern) bank of the Dulygaly River, 1.1 kilometers from the confluence of the Ashchyly tributary into the Dulygaly, 150 meters to the south and slightly west of Mausoleum of Kulmukhammet Ishan, 71.3 kilometers southwest of the village of Sarlyk and 84.4 kilometers north and slightly west of the village of Baikonyr in the Ulytau district in the northwest of the Ulytau region.
The mosque was built by Kulmukhammed Ishan Arystanbayuly at the beginning of the 20th century in the period from 1902 to 1906 from baked bricks. 9 domes crowned the building of the Muslim temple. Until 1934, a mosque operated, later a madrasah was opened here.
It was under the vaults of this mosque that the participants in the uprising of 1916-1917 received a blessing, including Amangeldy Imanov, who studied at the madrasah that worked at the mosque. For the blessing of the rebels, a ram was sacrificed (they say that it is his head that is kept to this day in the Kulmuhammet Ishan mausoleum).
Therefore, it is generally accepted that the Dulygaly mosque became a kind of spiritual center of the national liberation movement throughout Turgay. There is no exact data on the date of construction of the mosque. At present, the mosque is not active; well-preserved ruins remain from it.
The well-known traditional healer Kazi Ishan, who lived in the 70s of the XX century, rests in the necropolis next to the mosque.
Geographic coordinates of Dulygaly mosque: N48 ° 32'12.30 "E65 ° 42'34.69"
Authority and photos:
Vitaly Shuptar. www.guide.kz
Alexander Petrov.