Diyarbekir ancient settlement.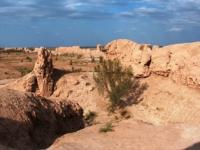 Excursions on vicinities of Dashoguz.
"Diyarbekir (Yarbekir-kala), antique and medieval ancient settlement approximately in 90 km to the west of town Dashoguz, in Dashoguz Region. In the plan a rectangle 250 x 200 m, medieval fortifications with an internal corridor and semi-oval towers, in east wall - the remains of an ancient construction well remained"
Turkmenistan Tours, Travel & Trips.
There is a set of the remains of constructions in fortress and around it. Emergence and the first period of functioning of fortress belongs to the 4th century BC - IIIrd century AD. After long desolation the ancient settlement began to be used in the period of the Khorezm shakhs (The X - XIII century of century) and time of the Golden Horde again (XIVth century).
By XVth century the population forever left this place. To the southeast from fortress - ruins of a large object of an era Horezmshakhov - it is probable, a caravanserai of non-standard planning. In vicinities there were many irrigational constructions, potter's workshops and inhabited estates.
Authority:
On materials of information department of the State committee of Turkmenistan on tourism and sport. "Religious and spiritual monuments to Central Asia". Author M. Hashimov. Saga publishing house, 2001.
Photos:
Alexander Petrov