Devil's Finger on the Caspian.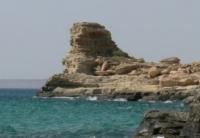 Tour around Caspian Sea Kazakhstan.
"Sea? I love him madly sitting on the beach"
Group tours to Aktau city.
The lonely rock Devil's Finger is located on the southeastern coast of the Caspian Sea in the southwestern part of the Tupkaragan Peninsula in the Tupkaragan District of Mangistau Oblast. From Cape Sagandyk, the rock is located in the north 16.5 kilometers.
From the southeast, a dry bed of the Uzunkudyk log descends to the rock, a little more than 9 kilometers long.
The coast in the vicinity of the cliff is very picturesque, there are fancy cliffs treated with water and wind, a delightful coast with a large, multi-colored shell and clear emerald water.
The length of the route from the Aktau-Shevchenko highway to the Uzunkudyk rock is 10 kilometers, the distance from Aktau is 79 kilometers.
Authority:
Alexander Petrov.