Demirgazik minaret.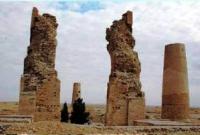 Excursion to Demirgazik minaret in ancient settlement Messerian.
"People usually feel funny, smile and laugh when I tell them 
about my strong belief in the very existence of prehistoric 
advanced technology and great civilizations of wilier races. 
I just can't wait to see their faces at time the truth is revealed" 
Toba Beta.
Individual tours on monuments of Dekhistan.
Demirgazik minaret is located at an altitude of 159 meters above sea level, located in the northeastern part of the medieval town of Messerian, in the northern part of the Masserian plain and in the southern part of the Choganli plain, in the northwestern part of the Khurmen sands, 17.5 kilometers to the north-west from the village of Madau, 42.9 kilometers north-east of the small village of Indyrlan and 141.2 kilometers south and slightly east of the city of Balkanabat in the Etrek etrap of the Balkan velayat.
On the territory of the medieval town of Messerian, the Demirgazik minaret with a diameter of about 8 meters at the base and a height of 20 meters, which belonged to the cathedral mosque, has been preserved. Inside the minaret there is a spiral staircase about 90 cm wide.
The minaret is notable for the perfection of ornamental brickwork and ribbons with Arabic inscriptions, three times encircling the trunk of the structure. The relief inscriptions are made of bricks in the Kufi style. The text of the middle inscription as deciphered by M.E. Massona says: "130 is the name of Allah, merciful, merciful! Blessing of Appahagyz that ordered Abu Jafer Ahmed, son of Abu-l-Agar, owner of the rabat, may Allah magnify him! Work of Ali (son) of Ziyad."
In the final part of the lower inscription, the date of construction of the mosque and the minaret is given - 493 A.H. (1102 - 1103). The lower part of the minaret, 3 meters high, was built of large bricks (23 x 23 x 6 cm), the upper - above the ornamental strip - of small bricks (20 x 20 x 3.5 cm).
Geographic coordinates of Demirgazik minaret: N38 ° 15'58.91 "E54 ° 37'19.25"
Authority:
 Bernshtam A.N. «History-archeologic sketches Central Tien-Shan and Pamir-Alay». " Religious and spiritual monuments of the Central Asia ». The author of M. Khashimov. Publishing house " Saga ", 2001 Tolstov S.P. « Ancient Khoresm », 848. Tolstov S.P. « On traces Ancient Khorezm civilizations », М.-L., 1948. On materials of an information department of the State committee of Turkmenistan on tourism and sports.