Dargan-kala ancient settlement.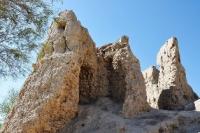 Tours across ancient settlements of Turkmenistan.
Excursions on sights on Silk way of Turkmenistan.
Archaeological monument is located in Bitarap etrap, Lebap Velayat near administration border with Dashoguz Velayat. It is about 4.5 km away from modern settlement with the same name and occupied 8 hectares.
Dargan-gala relates to the VII – VIII centuries and no wonder that local resident call it differently – Kone-gala, which means old fortress. It was a part of Khorezm (historical and cultural region in the north of the Central Asia in the lowlands of Amudarya River) and was the second important city after Urgench.
After entering the State of Turkmen- Seljuks, the city experienced genuine growth. It is enough to say that its territory increased up to 50 hectares. The fact that it was located in good place for crossing the great Central Asian river enhanced the development. 
The architecture of Dargan-gala presents considerable interest. The height of its fortress walls reached 8 meters and the width 5 meters. All building inside were double-stored. The ground floor was for the living and the first one for storage of food and drinking water. 
The location of the settlement on the northern leg of the Great Silk Road stipulated the construction of the caravansary. The travellers used to have shelter on their hard and long trip from Kunya-Urgench to Amul. 
After Mongolian invasion in the XIII century, Dargan-gals was left by residents. Today, this historical monument is protected by the Government. The settlement is located on high hill and good stair leads to it. Teachers of secondary schools make tours their for the pupils.
Medieval settlement was also visited by the participants of equestrian ride in honour of 2017 Asian Games, which route lays across the territory of Lebap Velayat.
Authority and photos:
http://www.turkmenistan.gov.tm  "Ancient settlement Dargan-gala experienced genuine growth after entering of Khorezm to the State of Turkmen – Seljuks". Marstal Bektasov. 03.03.2017.