Damai Shakhon mausoleum.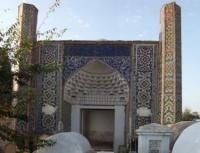 Excursion tours over places of interest Kokand.
"It seems that only monuments will soon remain from culture"
Leonid S. Sukhorukov.
Tour from Kokand to the city of Osh.
Dakhma – I Shahan (the cemetery of the kings) is the burial place (khazira-fenced yard) of Narbut- biy (d.1799) and his descendants, was built in the 20s of the XIXth century.
According to the eminent poet of Kokand literature circles Uzlata, after the death of the Kokand khan, Amir Umar-khan and his wife princess Mahlar-Ayim Nadira ordered the landscaping of the area of the necropolis, to build a domed room, lined with the majolica, mosque, avian, and a special burial chamber (dakhma).
Authority:
http://welcomeuzbekistan.uz