Cycling track "Saryarka".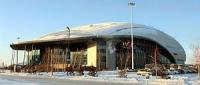 Sports sights of Astana.
"Architecture is the art of wasting space"
Philip Johnson.
Sports centers of Nur-Sultan.
The republican cycling track "Saryarka" is located in the city of Nur-Sultan in the southwestern part of the city at the corner of Kabanbai batyr and Orynbor streets, opposite the northern part of the Botanical Garden on the eastern side of Lake Taldykol.
The Saryarka cycle track looks like a cyclist's helmet. In 2009, an ice arena was added to the cycling track design, where short track and figure skating competitions were held during the 2011 Asian Winter Games.
Republican cycle track worth about 20 billion tenge. The unusual shapes of the structure immediately attract attention. Under its dome and an area of ​​20,000 square meters, in addition to the cycle track itself, there are also volleyball, basketball, football grounds, several swimming pools and fitness centers.
The facility has a capacity of 9,270 spectators. The complex includes: a bicycle center, a hotel complex, educational and recreational complexes. The cycle track for the 2011 Asian Games has been converted into an ice arena where short track and figure skating competitions are held.
After the Asian Games, it is planned to use it for various competitions and sports camps. In addition, the complex can be used for concerts, conferences, etc. Designed not only for cycling, but also for speed skating, short track, hockey (there are 2 courts), as well as for curling and figure skating.
In 2011, the Nur-Sultan cycle track (at that time Astana) was recognized as the best in the world.
Geographic coordinates of the cycle track "Saryarka" in the city of Nur-Sultan: N51 ° 06'36.53 "E71 ° 24'26.53"
Authority and photos:
https://ru.wikipedia.org/wiki/%D0%90%D1%81%D1%82%D0%B0%D0%BD%D0%B0_%D0%90%D1%80%D0%B5%D0%BD%D0%B0