Cult-housing complex Ulken Zhybysky.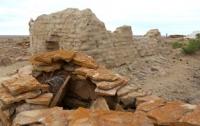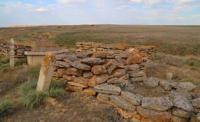 Drive to Kazakhstan.
"Who makes destiny - gods or people? Can one person affect the balance of power in the world? What is hidden behind the remoteness of time? Our time, the nomadic steppes of Central Asia during the first millennium BC, mysterious Tibet, the ancient religion of Bon and the gods of the nomadic Turks, people of all times, their lives, their feelings, their actions, their beliefs and the importance of each life for people and gods. Indeed, the path of the spirit must be traversed by human feet"
Nicholas Roerich.
Monuments sights of Kazakhstan.
The cult-housing complex Ulken Zhybysky is located in the west of the Donyztau cliff and the Shagaray plateau, 9 kilometers south-west of Cape Chagrai on the territory of the old village of Dongyztau (Aktumsyk) north of the Chitvai, Ivraim and Karakol dams, 124.1 kilometers from the nearest village Bozoi and 128.6 kilometers southeast of the village of Oimauyt in the Bayganinsky district in the south of the Aktobe region.
The specific features of the folk architecture of Northern Ustyurt are well expressed in the Ulken Zhybysky complex. Remains of dwellings of buildings of the XIX - early XX centuries, a mosque with services and a necropolis are picturesquely spread out on the steep slopes of a wide sai, forming a single historical and landscape monument.
The necropolis itself occupies a minimum of area: often the buildings are installed end-to-end, have adjacent walls. Basically, these are cyclopean fences - a brown sandstone cake. The compositional center of the necropolis is an expressive domed mausoleum with a kulpytas.
There are not many artistic steles and gravestones, they are original, but archaic. In some places, such a type of grave architecture as sandyktas in combination with kulpytas and koitases is noted. It is significant that in this area they began to erect monuments from baked bricks.
These are the original saganatams of the syncretic type, as well as centric and multi-chamber mausoleums.
Geographic coordinates of the cult-residential complex Ulken Zhybysky: N46 ° 39'23.91 "E57 ° 19'58.99"
Authority:
The article "Architecture of the Aral-Caspian Sea: area, chronology, traditions".
Photos by
Alexander Petrov.