Cinema and concert complex named after Borbad in Dushanbe.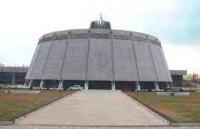 Photo tours of sights of Dushanbe.
"Culture is not the number of books read, but the number of understood."
Fazil Abdulovich Iskander.
Traveling along mountain routes of Tajikistan.
The cinema and concert complex named after Borbad is located on Somoni Avenue, in the center of the recreation area of ​​the city of Dushanbe, is located 740 meters east of the Embassy of the Russian Federation, 660 meters southeast of Sino Square, on the shore of the northwestern bay of Komsomolskoye Lake.
Next to it is the Republican Stadium named after M.V. Frunze, a picturesque large lake and green squares. The building itself has a round domed shape and from a distance it seems that it was built of huge marble slabs.
All solemn events of the city and the republic are held in this Palace of Arts. Movies are shown here, concerts of famous singers and artists are held. Its large hall is designed for 1918 spectators, and the small hall - for 320 seats.
In addition to two halls, the Palace has a rehearsal room, rest rooms for actors, a bar, administrative offices, recording studios, a hall for celebrations and anniversaries. In 1990, in honor of commemorating the 1400th anniversary of the birth of the famous singer and musician of the East, Borbad, the Concert Hall was named after him.
Geographic coordinates of cinema and concert complex named after Borbad in Dushanbe: N38°34'57.85" E68°45'44.78"
Authority and photos by:
http://www.dushanbe.tj