Chernovoe Lake (Kaumysh).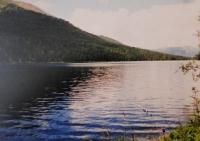 Walk on the lakes of East Kazakhstan.
"Somewhere a chamois ran, somewhere a kite flashed by
A heavy stone broke, a rumble was heard between the rocks.
And nests, and light steam swirls, a source of clouds,
Catching, crawling along the ledges of a wet steep"
Balmont Constantine. "At the hour of dawn."
A trip to the lake Chernovoe Kaumysh.
Chernovoe Lake (Kaumysh) is located at an altitude of 1915 meters above sea level in a small hollow developed by water streams, and later the former bed of an ancient glacier. The length of Lake Chernovoe is 2 kilometers, a width of 900 meters, a depth of 8.5 meters.
The color of the water is dark brown, transparency 3.5 meters. The water temperature at the surface is + 18 °; at the bottom, the temperature is 9 ° C.
The shores of the southwestern half of the lake are sandy and pebble with separate boulders; at the northeastern end of the lake it has a mud structure.
Many small rivers and springs flow into the lake, the Kara-Su River, which has a length of up to 12 kilometers.
From the lake flows the river Chernova. The area of ​​the lake is 1.47 square kilometers.
Authority:
Guide to the East Kazakhstan region "Nature of the Kazakhstan Altai".