Central stadium in Dushanbe.

Sports in Dushanbe.
"The tree also needs evaporation and frequent refreshment with the help of winds, rains, colds, otherwise it easily weakens and withers. In the same way, the human body generally needs strong movements, activities and serious exercises.
Jan Comenius.
Sports facilities in Dushanbe.
Central Republican Stadium of Dushanbe (Taj. Varzishgohi markazii humkhuriyavii Dushanbe) is a sports stadium, located between Ismail Somoni Avenue, Nizomi Ganjavi Street and Sportivnaya, located in the western part of the zoo.
It is the best stadium in Tajikistan. The stadium is located near the lake and the green zone, favorite places of recreation for Dushanbe residents, and the new complex of the State University. Its total area is 20 hectares.
This stadium mainly hosts all central football matches and sports competitions, the national holidays "Navruz", "Mehrgon" and others. It was built in 1946 and can accommodate 24,000 people. It is the home arena of the national team of Tajikistan and the Istiklol football club.
The stadium is the second largest stadium in Tajikistan (in the first place is the Stadium of the 20th Anniversary of Independence in Khujand). By decision of the Central Executive Committee and the Council of People's Commissars of the Tajik SSR, in 1939, the construction of a stadium in Dushanbe began.
He was given the name "Republican Stadium named after M.V. Frunze", which was preserved until 1991. With the outbreak of World War II, all construction work was suspended. But a year after its completion, in 1946, the stadium was actually opened - the western stand for 5,000 seats was built.
In 1962, the complete completion and reconstruction of the stadium for 21,400 seats was completed. The architect of the stadium was Vladimir Nikolaevich Golovinsky. During Soviet times, the Energetik team from Dushanbe performed at the stadium, which was later renamed Pamir.
After the collapse of the USSR, the stadium was renamed the Central Republican Stadium and slightly increased its capacity in the 2000s - up to 24,000. Now the national team of Tajikistan, the Istiklol football club play their home matches at the stadium.
Previously, Varzob and Sitora played their home matches at the stadium. Also, some of their matches are held here by the youth, youth, and women's teams of Tajikistan. On October 31, 2015, the final match of the AFC Cup was held at the stadium, in which the Tajik Istiklol and Malaysian Johor played.
The match ended with a score of 0:1 in favor of the team from Malaysia, which became the owner of the trophy. During the match, the judges did not count 3 goals of Istiklol. In addition to football matches, the stadium hosts various sports competitions, such as athletics.
Also, holidays and events of the city and state level, performances and concerts are held here.
Geographical coordinates of Central Republican Stadium in Dushanbe: N38°35'09.00" E68°46'09.37"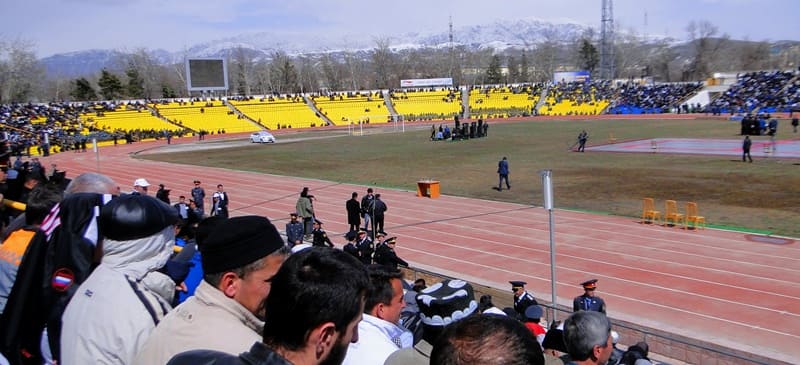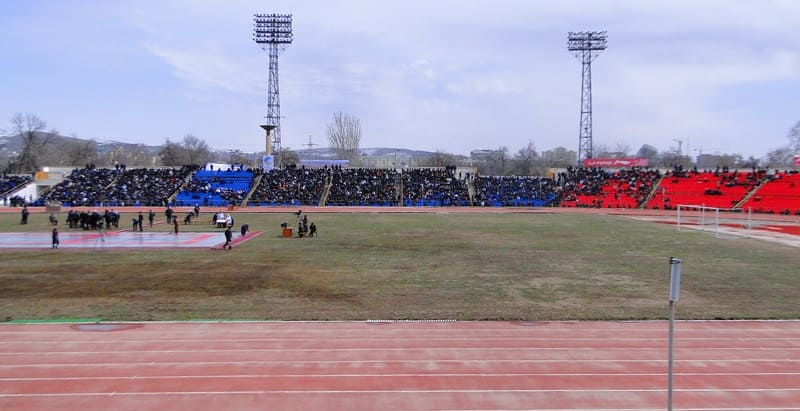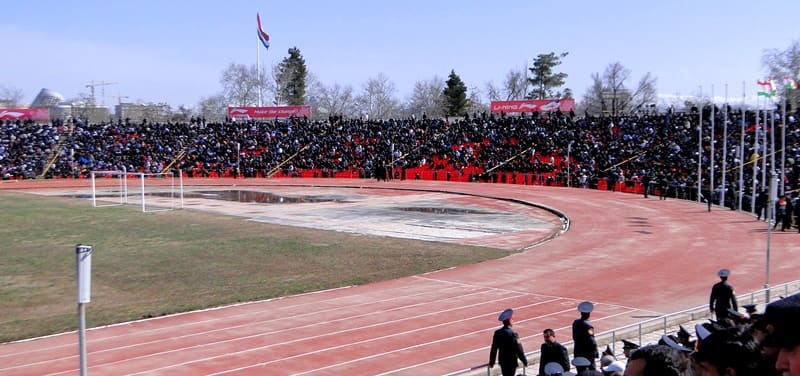 Authority:
https://ru.wikipedia.org/wiki/%
Photos by
Alexander Petrov.