Buzlak-ata mausoleum in Sairam.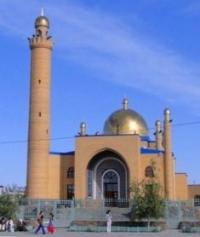 Tours of the monuments of Sairam.
"Beauty provokes harassment, the law says, but it looks through men's eyes when deciding what provokes it." 
Naomi Wolf, The Beauty Myth.
Sairam City Tour.
The Buzlak-ata mausoleum is located near the southern gate of the Bazarkapka of the Sairam fortress in the village of Sairam in the Sairam district of Turkestan region. The mausoleum was restored again with a height of 6 m, an area of ​​4 x 5 m.
The real name Buzlak ata is Sheikh Kamaliddin Bayzavi, and he lived in the XII century. In Risspai, Sairam Isfizhob "said of him:" When trouble happened in Sairam. from the grave of Kamaliddin Bayzavi came a voice similar to the crying of a camel who lost a camel.
Therefore, the people called him Buzlak ata.
Authority:
"Code of monuments of the South Kazakhstan region." Architectural and archaeological heritage of the South Kazakhstan region. In the framework of the regional program "Cultural Heritage". http://www.farsah.kz
Photos
Alexander Petrov.