Base Camp in Karavshin gorge.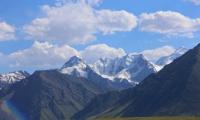 Trip to gorge Karavshin in mountains Pamir-Alay.
"Travel makes one modest. You see what a tiny place you occupy in the world" 
Gustave Flaubert.
Tours to Karavshin gorge from Batken.
Karavshin Gorge is geographically located in Turkestan Ridge area, west to the Matcha Mountain Junction. Its administrative location area is Batken district in Batken province of Kyrgyzstan. Turkestan Ridge region (Pamir-Alai Mountains) is very similar to Patagonia in South America.
There are the same windy wilderness with crystal water springs and rivers, alpine meadows and glaciers, surrounded by 5000 m peaks, and no signs of civilization there… Here there is a great variety of any routes from simple to difficult ones for technical rock climbing and mountaineering fans!
Thus, Karavshin gorge is quite popular spot among mountaineers, rock climbers and just mountain tourists. The most famous peaks in the area are Asan Peak 4230 Meters above sea level, Usan Peak, 4810 Meters above sea level, Peak, Pyramid Peak 5509 мeters above sea level, Kotova Peak, Yellow Wall etc.
Numerous interesting routes and absence of crowds of people make it area the unique one! Karavshin is the training area for the real expert mountaineers! Most of the guys who come here want either prove their climbing style or make new trails.
They do it participating in some contests which are often held here. It is possible to get there by helicopter or on foot. Usually they jump off from Batken and get Vorukh village in Tajikistan. From here you trek up along the banks of Karavshin river.
For the loads transporting you may hire donkeys or horses. From Vorukh to the base camp it is 50 km or one and half days of trekking. Most part of the way goes through the torrid Karavshin canyon.
Than along Jayupaya river passing apricot orchards and abandoned stone hut you find yourself in verdant Kara Suu or Ak Suu gorges depending on which summit you plan to ascent.
From the town of Batken up to Tadjik enclave Voruh about one hour by the machine (45 km).
From settlement Voruh the gorge Karavshin begins, in the beginning which is located kyrgyz frontier post. Upstream the rivers Karavshin can be passed by the machine about 4 kilometers. Further on road there are the blockages, remained after earthquake.
The cargo is overloaded on pack-train (donkeys and horses) from here begins 50 kilometer hiking. It is necessary to go on old roads up to top, old destroyed frontier post. Further the road comes to an end and the track on which it is necessary to rise up to the thrown settlement "Top Karavshin" located at merge of the rivers Ak-Suu and the Kara-Suu begins. From merge of these rivers the river Karavshin is formed.
From this place about 1,5 hours through juniper a wood up to base camp "Karavshin" in a valley of the river the Kara-Suu, or is so much up to base camp in gorge Ak-Suu. For residing at gorge Kara-Suu it is better than a condition - the camp is located at a springs of potable water, in gorge there is not enough wind.
In gorge the Kara-Suu therefore is more convenient to settle down. Time of the approach from settlement Voruh up to base camp 1,5 - 2 days, without a caravan with pack animals it is possible to reach for a day.
From base camp "Karavshin" downwards on a track through juniper a wood it is necessary to reach up to sheep pen. From sheep pen upwards in a hollow, formed by two hills, comes to an end with rocks of peak Kotin. From the lowest place of the opposite party of a hollow on other party, in gorge Ak-Suu the track goes down.
By thrown sheep pen it is necessary to go upwards on gorge on the left coast of the river along walls of peak Kotin and the Millenium of the Christening of Russia. It is necessary to reach the left buttress of east wall of peak of the Millenium of a christening of Russia, to rise to the left of it up to sources stream between walls of peaks 4300 and Millenia of a christening of Russia (in droughty year of water can not be).
The beginning of a route on an internal corner from a good green shelf.
Authority:
Saveliev Igor Borisovich, Lopukhina Olga Alexandrovna, Shumbasov Alexander Anatolyevich.
Photos by
Alexander Petrov.