Balkadishy grave site.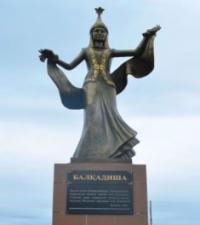 Tours in the cities of Kazakhstan on the Silk Road.
"The soul of the universe is the truth"
Ibn Sina.
Travels on the Silk Road of Kazakhstan.
Location: The monument was established in 2015 at the entrance to the village Zerenda, and the tomb of Balkadishy is located in a Muslim cemetery of Kenetkol village, Zerendi district. According to the legend, once in the village of Musa Montai, located near the Zhylandy mountain in the Zerendi district, a large toy was organizated with regard to the birth of a child, which was attended by the aged Akan sere. Akan sere was greeted cordially and put on a place of honor.
But there were rumors that Akan sere had gone mad and married peer. When he was seated at the place of honor, no one wanted to sit with him. Suddenly, a girl Kadisha sat next to him. Gifted with not only external beauty, but also spiritual kindness, she understood that Akana sere was depressed and said:
"A famous akin came to our village, why don't we write a new song together." The holiday was interesting. Soon Kadisha's older brothers wanted to pick her up, but she hesitated to pick up an old man to get out, and continued to sit.
She did not want to leave at all, and Akan did not want to let her go. The girl surprised the poet so much with her wisdom and upbringing, that touched poet immediately dedicated poems to her and performed them to the accompaniment of his dombra.
The song turned out so soulful and melodious that it touched the heart of everyone who heard it. The next morning, the melody was scattered by the steppe wind along the nearby villages.  For one night, the song like a fabulous bird circled the entire Great Steppe, reflecting mind and beauty of the young girl and inspiration of a singer who practically renounced public life because of the many injustices of fate. The tragic song consists of 90 verses.
Unfortunately, they did not reach us completely. In 1988, Kairolla Zhuzbasov collected three versions of the song "Balkadish" in the publishing house "Oner". The heroine of the song – Kadishf, marries a noble son of old man Suleimen. 
She died in 1953. She had three daughters and two sons. The songs of Balkadish were performed by famous singers such as Amre Kashaubaev, Garifola Kurmangaliev, Zusip Elebekov, Kairat Baybosynov, Ramazan Stamgaziev, Gaukhar Alimbekova, group "Zhіgіtter".
Authority and photos:
Folk legend.  http://srh.kz/content/kompleks-balkadishy/