Balgasyn necropolis.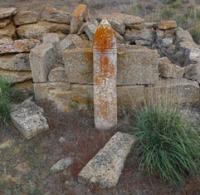 Information tours across Kazakhstan.
"A man does not reveal himself in history: he breaks through it"
Rabindranath Tagore.
Travel to monuments of Kazakhstan.
The necropolis Balgasyn (kaz. Balgasyn), is located on the ancient necropolis of Bolgasynmola, 185 meters on the left (western) drying up bank of the Bolgasyn stream, 6.2 kilometers south-west of Lake Sor Tebez, 11.6 kilometers to the south-west from the village of Taldykum, 35.5 kilometers north of the administrative center of the Shalkar region - the settlement of Shalkar in the southeastern part of the Aktobe region.
The complex consists of a large number of grave mounds and mud brick fences. There are no artistic steles and gravestones, which was typical of the Northern Aral Sea region in the medieval era. The Balgasyn complex includes the ruins of a tower (late XVth - early XVIth centuries), the Onalbek-ata mausoleum (XVIIth - XVIIIth centuries) and graves without kulpytas (XIIIth - XVIIIth centuries), built of bricks and stones. Some of the graves depict a tamga of the Shekty clan.
The area of ​​the complex is 140 × 220 meters. The Balgasyn necropolis was first explored in the late XIXth - early XXth centuries. expedition of the Orenburg Archival Commission, which was led by A. Matov.
1979 - 1980 an expedition of the Ministry of Culture of the Kazakh SSR took place under the leadership of S. Adzhigaliev.
In 2003, on the initiative of Imangali Tasmagambetov, head of the National Commission of the Republic of Kazakhstan for UNESCO, another archaeological expedition was organized. Ancient information confirms that the Balgasyn monument was revered as a holy place.
Basically, women come to the ruins with a desire to find the happiness of motherhood. According to local residents, if a pilgrim saw a good dream in a dream, it means that her wish will come true. Since 2010, the architectural complex has been included in the list of historical and cultural monuments of local importance in the Aktobe region.
Geographic coordinates of Balgasyn necropolis: N48 ° 09'43.12 "E59 ° 38'09.88"
Authority:
https://visitaktobe.kz/putevoditel/sakralnyie-mesta/obektyi-oblastnogo-znacheniya/nekropol-balgasyin