Ayrybaba mountain.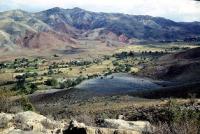 Climbing Mount Aýrybaba in Mountains Kugitangtau.
"Everything in excess is opposed to nature" 
Hippocrates.
Walks in vicinities of mount Ayrybaba.
Mount Ayrybaba - the highest point of the central part of Ridge Koitendag (Kugitangtau), 3137,7 meters high above sea level. Mount Ayrybaba is located on border of Turkmenistan and Uzbekistan. In the east, from Mount Ayrybaba, in Turkmenistan, the Koytendag national natural reserve is located.
In the West, from Mount Ayrybaba, in Uzbekistan, the Surkhan national natural reserve is located. In the northeast, in Uzbekistan, the small ridge Kurgan departs from the main Ridge Kugitangtau, it is a little to the north the ridge Zakharli.
The top is located in the territory of Koytendag (Charshanginsky) of the etrap in Turkmenistan. The mountain differs in very steep slopes. East slope represents the break insuperable to the person, because of it the site of frontier of Turkmenistan with Uzbekistan which passes here, is not protected.
Slopes of the mountain are covered Archa (juniper) light forests and other bushes. Temperate climate. From November to May the top of the mountain is covered with snow. Annual amount of precipitation about 400 mm.
In 2004 the Turkmen name of top Aýrybaba was renamed into Beýik Saparmyrat Türkmenbaşy (peak of the Great Turkmenbashi). In Uzbekistan the mountain is still called Ayribobo of chokkisa. Kugitangtau the ridge in a southwest part of Pamir-Alay, in the territory of Uzbekistan and Turkmenistan.
Southern continuation of the ridge Baysuntau. The ridge stretches from the valley of Amu Darya to the gorge of the river Sherabad for 100 km. The ridge is put by sedimentary breeds, limestones, plaster. The karst is widespread.
The prevailing landscapes: the efemerovy semi-desert (in the foothills) and mountain subtropical steppes with kserofitny bushes (higher).
Authority:
Alexander Petrov. https://ru.wikipedia.org