Assumption Cathedral in Taraz.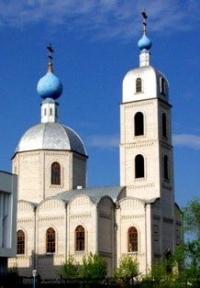 Night-time tour in Taraz.
"The distance of time's separation brings us remnants of memories so ancient that most are lost in the mists of illusion…" 
A.J. Vosse.
Side trip in Taraz.
In 1990, land was allocated for the construction of a church in the city of Taraz. December 26, 1993 the church was consecrated in honor of the Assumption of the Blessed Virgin Mary. The church was built with private donations to the temple.
The final construction was completed in 1998. In the church are Orthodox icons with relics - St. Nicholas the Wonderworker and the Monk Nil Stolobensky.
Authority:
"Guide to Taraz and the Zhambyl region." The publication of the Department of Tourism and Sports of the Zhambyl region.