Asanas ancient settlement - III.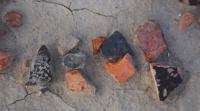 Sacred places of Kyzylorda region.
"History is a description of the fight of human genomes for dominance"
Wilhelm Schwebel.
Pilgrimage to Korkyt ata complex.
The Asanas III settlement is located in the Syrdarya district of the Kyzylorda region, 17.5 kilometers south-west of the Aydarly village and 46.8 kilometers south and slightly east of Kyzylorda and 6.3 kilometers south-west of the Aktobe mound with a height of 141, 9 meters above sea level.
9.4 kilometers to the west, a little to the south of the Asanas settlement, the third Asanas III settlement was discovered, also rectangular in shape, which gave a large amount of late post-Mongolian ceramics (separate fragments not earlier than the XIV century).
The settlement is located directly at the channel on its left bank. The size of the settlement is 350 x 350 meters. The height of the walls is 1 - 1.5 meters, and the width is 1.5 meters. Inside the settlement, the plan of residential buildings is clearly visible.
For example, one of them is located in the center of the settlement, rectangular in shape, measuring 15 x 15 meters. The width of the wall is 0.5 meters, traces of four rooms are visible, a tashnau and a stove are located in one room.
Geographic coordinates of the Asanas III settlement: N44 ° 26'02.03 "E65 ° 33'17.06"
Authority:
A.A. Tazhekeyev, R.T. Darmenov. "Bulletin of KazNU".  2012. Almaty
https://articlekz.com/article/7260
Photos by
Alexandr Petrov.