Anrakhay battle monument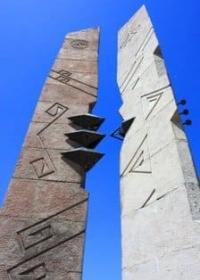 Tours across historical places of ancient Kazakhstan.
"When the battle with the Dzungars happened,
When for the first time happiness smiled at us,
When Sharysh's head rolled off his shoulders,
With a loud cry "Abylay",
Putting your head on the saddle
He rode with a cry that the enemy was fleeing…"
Zhyrau Umbetey.
History monuments of ancient Kazakhstan.
The stele of the Anyrakai battle is located at an altitude of 890.5 meters above sea level, located 30 kilometers to the west and slightly south of the city of Almaty on an elevation on the south side of the Almaty-Bishkek highway, 6.2 kilometers to the north-west of the city of Kaskelen, 2.5 kilometers southeast of the village of Ushterek in the Karasai district of the Almaty region.
The steles located in the center of the circle framed by twelve stones with animal signs of the Turkic 12-year cycle symbolize the confrontation and dramatic struggle of the two peoples. The Kazakhs, who won this fight, are denoted by a higher stele with a peak directed upwards, and the Zhungars - by a lower stele, with a peak, as it were, split in half.
"The people should know their history and realize that there is strength in unity," President of the Republic of Kazakhstan Nursultan Nazarbayev said at the opening ceremony of the monument. Steles also vary in color. The red granite stele means Kazakhstan and its people, and the gray color of the second stele is Zhungars.
igns and ornaments in architectural structures indicate a model of the world. Ornaments on the "Zhungar" stele are shifted, split and scattered. In the decoration of the Kazakh stele there is an ornament "koshkar muyiz" - "horns of argali", which resembles a bow directed towards the enemy.
The authors of the construction are the President of the Union of Designers of the Republic of Kazakhstan, Honored Art Worker Timur Suleimenov, Vice President of the Union of Designers Almas Ordabaev and Head of the Almaty Regional Department of Architecture and Urban Planning Sairan Fazylov.
The Anyrakay battle took place in the spring of 1730 in the Anyrakay tract between the Kazakh militia and the Dzungarian army. The monument to the Anyrakai battle was erected in honor of the 270th anniversary of a significant victory in 2001
Geographical coordinates of Anyrakai battle stele: N43°13'15.08" E76°33'09.61"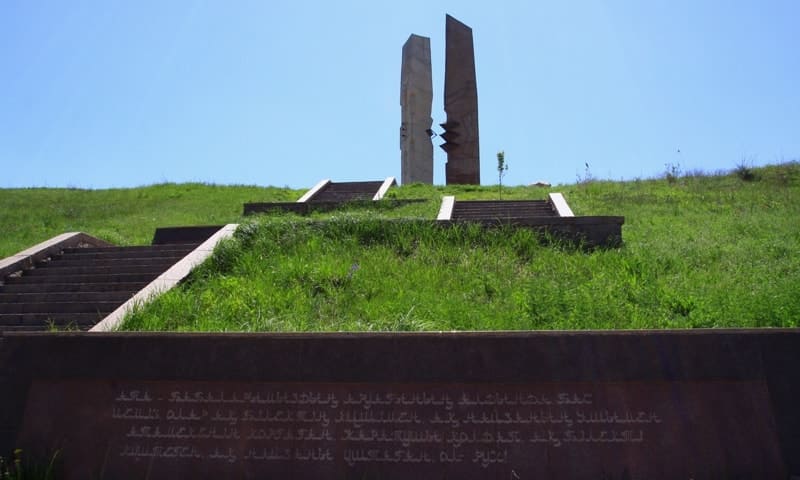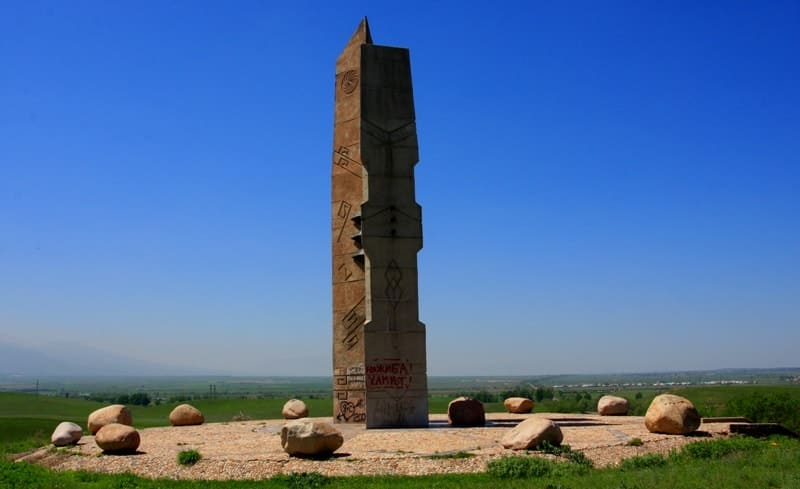 Authority:
"Zhetysu is the Land of  tourism". A Tourist Guide-book. Almaty.  2003. 68 p. and the material for this page is taken from the printed edition.
Photos by
Alexander Petrov.