Ancient settlement Tas-asar.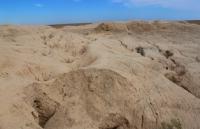 Individual tours in Kyzylorda region.
"The history of the world is the biography of great people"
Thomas Carlyle.
Photos of Kazakhstan.
The Altyn-asar settlement is located in the Karmakchinsky district of the Kyzylorda region, 12.5 kilometers north-west of the village of Turmaganbet and 46.1 kilometers south-west of the regional center of Zhosaly.
The Tas-asar settlement is located in a wide valley, cut by ancient riverbeds, now dry, rivers and tributaries and fields-check. The settlement is a two-tiered loamy tobe, cut by scours. A trapezoidal hill, 60 x 60 meters in size, is oriented along the northwest - southeast axis.
The general shape of the lower tier is rectangular, measuring 45 x 30 meters. It rises 8 meters above the surface of the plain. The citadel measures 32 x 24 meters. oval is located in the northern part of the tobe. The height of the upper tier is 13 meters.
The entrance gate is marked on the southwest side and in the east corner. A significant number of fragments of pottery, iron slag, and animal bones are recorded throughout the site and in the immediate vicinity.
Geographic coordinates of the Tas-Asar ancient settlement: N45 ° 07'46,00 "E63 ° 47'39,65"
Authority:
https://sketchfab.com/3d-models/062--0383d7518bf14923a3aa6bbce4e3486f
Photos by
Alexander Petrov.