Ancient settlement Altyn-asar.
Ancient architecture of Kazakhstan.
"Excellent minds are the true heroes of history"
Karamzin N.M.
A trip to settlements of Jety-Asar culture.
The Altyn-asar settlement is located on a small hill 103 meters above sea level in the Karmakchinsky district of the Kyzylorda region, 19.6 kilometers north-west of the Turmaganbet village and 51.7 kilometers south-west of the district center Zhosaly.
The Altyn-asar settlement, Jety-asar No. 3 is the largest monument of the Jetyasar culture. It is a large fortress with an equally developed fortification system, but with numerous and varied remains of large residential buildings inside.
Altynasar is located at the western end of the Djetyasar tract and is a complex of four fortresses of different times, enclosed within one fortress wall. The earliest of them is the so-called "Small House" with its high round central platform and a much lower suboval second platform.
Appeared, obviously, no later than VII-VI centuries. BC. The "Small House" is located in the northeastern corner of the Altyn-Asar complex. Probably not later than the last centuries BC. To the south of the "Small House" a two-storey settlement "Big House" was also erected, the central part of which, judging by the analogy with other Dzhetasar settlements, was also a two-storey fortress.
Around the middle of the first millennium A.D. Fortification walls were built with numerous towers, a defensive corridor, which limited the territory with an area of ​​17 hectares and included both early settlements and a circular fortress in the north-western corner of the complex.
The latest buildings of Altyn-Asar include a sub-square (more precisely, five-sided) fortress erected on the cultural layers of the second site of the "Big House". In the vicinity of Altyn-Asar, there are more than fifty necropolises, usually including mounds of different times.
Geographic coordinates of the Altyn-asar settlement: N45 ° 11'31.17 "E63 ° 31'44.62"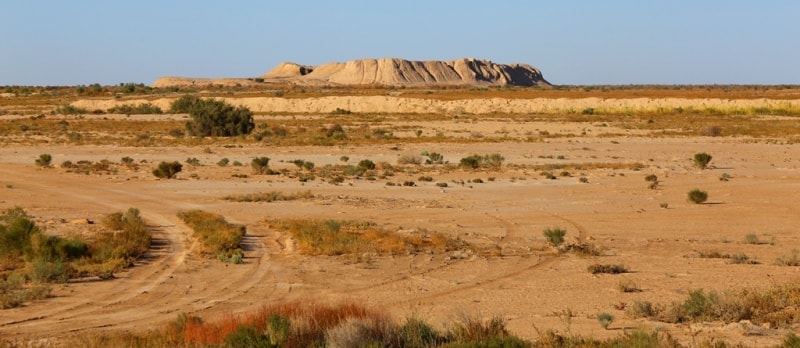 Authority:
http://ru.encyclopedia.kz/index.php/
Photos by
Alexander Petrov.