Akbikesh Tower (Axumbe).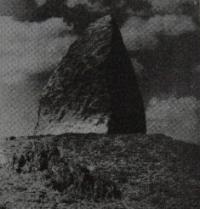 Educational Tours in Shymkent.
"Does progress mean that we dissolve our ancient myths? If we forget our legends, I fear that we shall close an important door to the imagination" 
James Christensen.
Holiday Tours in Turkestan.
Akbikesh (kaz. Aқbikesh), Aksumbe (kaz. Aқsүmbe) is a medieval tower in Kazakhstan, located south of the village of Aksumbe in the Sozak district of Turkestan region in the western part of Karatau. Built of adobe bricks. It has one entrance, two windows for observation.
The tower is mentioned in the work of the Timurid historian Sharaf al-Din al-Dzhuzdi "Zafar-name" as an observation tower during the campaigns of Emir Timur in 1389 -1390 against Tokhtamysh. According to legend, the tower bears the name of the beautiful Akbikesh.
The height of Akbikesh Tower is 12 meters. The base of the tower is made of cubic stones. On the northeast side of the Tower is a door leading to the top of the tower. A spiral staircase leads upstairs. In the middle part, at an altitude of 3 to 5 meters, there is an observation window through which you can view the northern part of the area. It offers views of the Shu River.
At a height of 6 meters there is a second opening facing south. The western part of the tower is collapsed.
Authority:
D. A. Taleev. "Code of monuments of the South Kazakhstan region." Architectural and archaeological heritage of the South Kazakhstan region. In the framework of the regional program "Cultural Heritage". http://www.farsah.kz