Aiay river in Kazakhstan.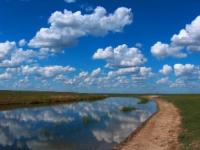 Trips to rivers of Kazakhstan.
"After all, in the winter the earth, turning gray-white,
Waited patiently for her bridegroom.
And now she again, young and reduced,
She laughed and sang and blossomed"
Abay Kunanbayev "Summer".
Fishing on rivers of East Kazakhstan region.
The Ay River is located in the Taskesken district of the East Kazakhstan region. The length of the Ay river is 152 kilometers, the catchment area is 3090 square kilometers. It has 88 tributaries with a total length of 159 kilometers.
The main tributaries are Karasu, Kyzylkur, Ushkaty, Baipa, Keneli and other rivers. In the Ay river basin there are 8 lakes with a total area of ​​0.22 square kilometers. It originates from the western slope of the Tarbagatai ridge, and is lost in salt marshes 3 kilometers south of the Aktobe hill.
In the upper and middle reaches, the river valley is clearly expressed, in the lower reaches it is represented by a flat plain. The width of the Ay river bed is 10 - 12 meters. The food is snow (20 - 50%), rain (10 - 12%) and ground. Spring flood begins in April and ends in late May.
The average annual water flow near the village of Ai is 0.94 cubic meters per second. The water in the river is moderately hard, suitable for drinking. Used for irrigation and water supply.
Authority:
Brief Encyclopedia "Kazakh SSR", Volume Two "Nature". Rybkina M.P.
Photos
Alexander Petrov.