Ahal Region.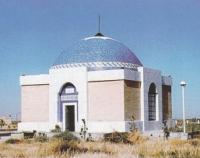 Ahal region sights.
Akhal velayat is situated in the centre of the southern part of Turkmenistan at the  border of the Karakum desert. Its climate is sharply continental with hot any dry summer. The area of Akhal is 98000 km2 and its population is about 700 000 people.
The centre of this velayat is Anau (Enev), other big towns are Abadan and Tedzhen. Akhal velayat is an important industrial region of Turkmenistan, having such major industries as natural gas extraction, the production of building materials and textile production – the biggest in the world factory of denim, knitted and cotton fabrics has been put into operation in Geok depe and Kaka in resent years.
The agricultural priorities are given to the cultivation of fine – fibered cotton, vegetables and stockbreeding. The tourist itineraries around the velayat are diverse and interesting. Some of them make the acquaintance with historical and architectural monuments of town-fortresses of Khivabab and Abiverd, the ancient town of Serakhs and pilgrim routes to the sacred places of Ak Ishan, Dowgala, Zengi-Baba, Kyrk-Gyz, Archman-Ata, Shekshi-Islam and Abul-Seid Meikhene.
Perfect rest and medical treatment can be offered at the heart resort of Archman known since the old times for its curative properties of radon mineral waters. There is also a unique cave with the underground lake Kovata. The cave is 250 m long, 65 m deep and 50 m wide.
The water of this lake is constantly warm, clean and transparent with an admirable amethyst color and contains 27 elements of the periodic table. The south of Akhal is rich of mountain ravines, which represent wonderful place for picturesque picnic.
This magnificent land is the motherland of the beautiful breed of horses – Akhalteke. The magic mountains in the area of Archabil and Geokdere are very good for mountaineering under a supervision of a skilful trainer.
Authority:
http://science.gov.tm