Abdykadyr mosque in Taraz.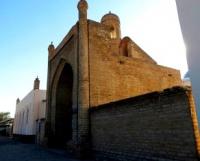 Luxury individual and group tours in Kazakhstan.
"Are you a lucky little lady in the City of Light? Or just another lost angel... City of Night?" 
Jim Morrison.
Group Tours for Individuals in Taraz.
The Adbykadyr mosque is an architectural monument of the earliest XIX century. The mosque is located in the historic center of Taraz, Abay Street 5. At the present day, the mosque presents a massive structure building with of square-shaped form from modern fired brick.
Initially, Abdykadyr Mosque occupied a large area at the corner of streets Abay and Kapal. The historical building of the Mosque consists of unique religious buildings, which was built in a style of Central Asian.
It was decorated with ornaments and decorative elements. Unfortunately, large area of the building were destroyed in the middle of 30s of the last century. The entrance portal with minaret was preserved from the foundation of the mosque until the present day.
It was decorated with two columns of decorative towers. It is the only preserved sample of monumental buildings such as "Darbaza" in the Zhambyl region. Artistic value is presented by entrance part of the complex, which is preserved from the original construction.
Portal entrance of the mosque has two columns that decorated with ornamental turrets. There is a shallow figured niche above the entrance arch of lancet shape. Construction was completed by minaret with a platform for azanchi.
The minaret has six lancet through apertures that inscribed to rectangular niches. Abdykadyr Mosque is a typical religious monument and civil architecture of the Aulieata period. Abdykadyr Mosque has included to the list of monuments of architecture and urbanism of Kazakhstan since January 1982, and now it is under state protection.
The building of the mosque was renovated and the foundation was strengthened in 2002. In addition, the entrance part has completely renovated. Abdykadyr Mosque has madrassa since 2002.
Authority:
http://culturemap.kz