1932-1933 Zhyldardagi asharshylyk kurbandaryna tagzym.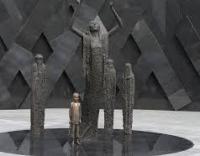 Participation in photo tour in Kazakhstan.
"A man is born, grows, reaches its peak, weakens and dies. Despite his blindness, he nevertheless admits that his death is not absolute, as nothing at all in nature freezes completely. He does not realize that as soon as the time comes, he will also be reborn with the same ease with which the trees do it. He cannot pretend to be reborn in the same body, but trees do not need the same leaves that they had on them last summer. Our bodies are leaves, and the roots remain the same as the soul forever lives."
Delia Steinberg Guzman.
Tours in Akmola region from Astana.
The monumental sculptural and artistic composition "1932-1933 Zhyldardagi asharshylyk kurbandaryna tagzym" ("Sorrow") was opened on May 31, 2012, on the Day of Remembrance of the Victims of Political Repressions and Famine.
The monumental sculptural and artistic composition commemorates the Kazakhs who became victims of mass famine in 30 years of the XX century.The monumental complex represents the Wall of Sorrow in the form of a part of the Kerege yurt and a sculptural group consisting of figures of a woman and a child.
President of Kazakhstan Nursultan Nazarbayev, speaking at the ceremony, called the Holodomor the most recent humanitarian catastrophe of the Soviet period, he recalled that over 1.5 million people died of starvation, more than 600 thousand Kazakhs were forced to "migrate beyond the borders of their historical homeland."
The monumental complex "1932-1933 zhyldardagi asharshylyk kurbandaryna thaly" is located on an area of ​​0.175 hectares , on a rectangular platform 21 x 21 meters, the height of the central sculpture of the "mother of a woman" is 4.4 meters, the remaining figures are 1.2 to 2.5 meters high.
The height of the Wall of Sorrow is 5 meters, the total length is 23 meters. The monumental complex is a symbol of expression of tribute to the modern generation of those who died from hunger and epidemics, who were innocently killed and tortured in prisons and camps and who left for a foreign land.
The authors of the monumental complex O. Alibaev, V. Pirozhkov. The complex is made of stone and marble.
Authority:
http://kazneb.kz/FileStore/dataFiles/0e/9c/1177773/content/full.pdf?time=1514570244229&key=378f3eca146ce6aaf53db8ea2d89ab46&isPortal=true