Tuyesu sands Mangyshlak.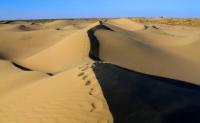 Trip to Tuyesu sands in Senek settlement.
"may came home with a smooth round stone as small as a world and as large as alone" 
E.E. Cummings.
Trip holidays in Mangyshlak.
Tuyesu sands are in Mangystau Region on the suburb of the settlement of Senek. Tuyesu sands were stretched from the southeast on the northeast on 30 kilometers, the greatest width from the North on the South of 12 kilometers.
Distance from the town of Zhanaozen to Tuyesu sands of 50 kilometers. To Mangyshlak and Ustyurt there are all views of deserts. There are sandy massifs here with different barсhans which constructed winds, hot wind in branches of rare saxauls sings the abstruse songs.
Sands strike with the originality, purity and pristineness. Sandy massifs have surprising purity and constant novelty. After walk on a barсhan, wind smoothes all traces of your walks in a few minutes.
It as the tireless toiler, shifts a grain of sand behind a grain of sand, never repeating the patterns on sand.
Authority:
Andrey Astafyev, Alexander Petrov.
Photos
Alexandr Petrov.