Tree of Life fountain in Nur-Sultan.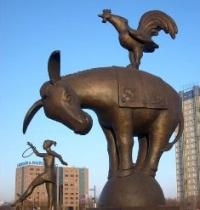 Pilgrimage to the city of Nur-Sultan.
"Man is not glorified in gold, not in silver.
Man is glorified by his talent, skill"
Jami Abdurrahman.
Sacred places of the city of Nur-Sultan.
The sculptural composition ' The Tree of Life'' is a picturesque fountain installed on the Jean Alan square in 2000 in the city of Nur Sultan. An artificial spring made of stone and bronze was created by the artist Azat Boyarlin.
The central element of the composition is a fancy tree, set in the heart of the fountain. In addition to it, the Tree of Life is decorated with statues of a ram, a camel, a horse and a bull, which in Turkic mythology are symbols of the four elements.
The symbolism of the tree itself has several interpretations - the roots symbolize the connection with the ancestors and the underworld, the trunk represents the world in which people now live, i.e. the middle world, and the branches symbolize future descendants and spirituality.
Authority:
http://reactor.inform.kz/samye-interesnye-pamyatniki-astany-a3656