Tomb of the saint Ismail-Ata.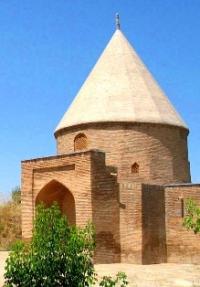 Tours over historical sights Turkestan province.
"We seldom realize, for example that our most private thoughts and emotions are not actually our own. For we think in terms of languages and images which we did not invent, but which were given to us by our society." 
Alan Watts.
Architectural monuments of Southern Kazakhstan.
Mazar Ismail-ata is located on the territory of the architectural and religious complex Turbat (XIII - XIX centuries) in the Kazygurt district in the Turkestan region. Some 70 kilometres south of Shymkent is a beautiful village, again situated at the foot of a mountain.
This is Turbat, the aul of the rose growers. In summer, this place is surrounded by blooming rose fields, grown to produce rose oil. A large town existed here from the 6th to XVth centuries, and today you can visit the Ismail Ata protected monument consisting of a number of mausoleums and the mosque of Baba Ata.
While part of the walls date from ancient times, the main building has been completely rebuilt. The site is dedicated to the Prophet Baba Ata, who is supposed to have worked here. Mazar Ismail-ata is a monument of medieval architecture.
This is a portal domed building with a tent covering. In the construction of the mazar, burnt square brick on a ganch solution was used. The construction, traditional for the monumental architecture of Central Asia, was applied: a dome that overlaps the central room is based on four arches made in the plane of the walls, corner spaces are blocked by beams.
Fragments of gypsum plasters with traces of floral, geometric and epigraphic ornaments were revealed on the walls in the interior. In 2010, restoration work began, local residents took part in this. It was mastered 14 million tenge.
With this money, religious buildings were restored, a gibadathana was built with a height of five, a width of 14 and a length of 40 meters.
Authority:
The guidebook across Kazakhstan . Authors Dagmar Schreiber and Jeremy Tredinnick.   "Monuments of history and culture of Kazakhstan. Shymkent region. Volume 1. Alma-Ata. 1994 year. G.M. Kamalova.
Photos
Alexander Petrov.