Shpak Tower on Mangystau.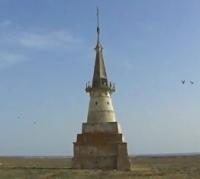 Sights of nature Mangystau.
"...In the western part of the region, in the artesian basins of Ustyurt and lowland Mangyshlak, in the Sarmatian limestones at a depth of 80-100 meters, there are fresh and brackish karst and fractured-caste-formation waters with a flow rate of wells and wells of 0.01 - 0.5 liters / sec and predominant mineralization 1-1.5, and more often 3-10 g / l. In the Cretaceous (and Jurassic) limestones of hydrogeological massifs and intermontane basins of Gorny Mangyshlak, Bolshoi Balkhan and in the chalk limestones of Tuarkyr, there are fissure-karst and fissure-karst-formation waters. The depth of wells is 3-10, and on Tuarkyr - up to 40 m, the prevailing flow rate of wells and springs is 0.01 - 0.4 l / sec. The waters are fresh and brackish with a salinity of 0.5 - 5 g / l and more..."
Kirill Ignatievich Shpak.
Best destinations Kazakhstan.
The Shpak Tower is located south of the Western Karatau Mountains, northeast of the railway siding No. 15, 21.4 kilometers west and slightly south of the Shetpe village and 7.3 kilometers southwest of the Tushchybek village in the Mangistau district and Mangistau region.
The Shpak structure was erected over the well, which was built by the workers of the geological party of Kirill Ignatievich Shpak. Shpak, graduated from the faculty of karst studies and speleology of the Perm Order of the Red Banner of Labor of the A.M. Gorky University.
After graduating from the university, he came to Mangyshlak to search for water, such a need was very urgent in the harsh land of the steppes. The indefatigable geologist managed to find water where no one imagined or expected it.
Back in 1990, Kirill Ignatievich Shpak lived in the city of Aktau. Shpak Tower is a famous tourist attraction of Mangistau, it looks very impressive in the steppe, local shepherds and residents call it the Kremlin or the Shpak mausoleum.
Geographic coordinates of the Shpaka tower: N44 ° 05'44.30 "E51 ° 53'28.23"
Authority:
https://geocaching.su/?pn=101&cid=20818
Alexander Petrov.
Photo from the web site:
https://iegres.kz/bashnya-shpaka/