Saint of the tomb Ismail-Ata.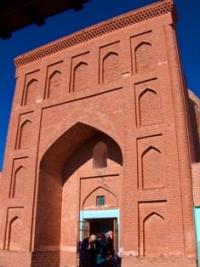 Central Asia and Shymkent tours.
"For everything in this journey of life we are on, there is a right wing and a left wing: for the wing of love there is anger; for the wing of destiny there is fear; for the wing of pain there is healing; for the wing of hurt there is forgiveness; for the wing of pride there is humility; for the wing of giving there is taking; for the wing of tears there is joy; for the wing of rejection there is acceptance; for the wing of judgment there is grace; for the wing of honor there is shame; for the wing of letting go there is the wing of keeping. We can only fly with two wings and two wings can only stay in the air if there is a balance. Two beautiful wings is perfection. There is a generation of people who idealize perfection as the existence of only one of these wings every time. But I see that a bird with one wing is imperfect. An angel with one wing is imperfect. A butterfly with one wing is dead. So this generation of people strive to always cut off the other wing in the hopes of embodying their ideal of perfection, and in doing so, have created a crippled race" 
C. JoyBell C.
Exclusive tours in Shymkent to Turkestan.
The medieval Saint of the tomb Ismail-Ata is located in the village of Turbat of the Kazygurt district of the Turkestan region. Included in the architectural complex of Ismail Ata on the territory of the necropolis, closing it from the north.
Portal-domed building with a tent covering. Low apse adjoins the main volume from 3 sides. In construction, burnt brick of square shape on a ganch solution was used. The construction, traditional for the monumental architecture of Central Asia and Kazakhstan, is applied - a dome that overlaps the central room is based on four arches made in the plane of the walls, corner spaces are covered with beam spandrels.
Above the dome on a high faceted dome drum, a faceted tent with internal stiffening ribs is erected. The spandrel adjoining the hall are covered with arched vaults. The main facade is designed as a portal with a U-shaped frame framing a lancet niche.
Simple elements were used in the decoration of the building facades - 2 rows of belts of bricks placed on the edge cover the building along the entire perimeter, the front surface of the portal is also decorated with a decorative belt buried in the masonry. In spandrels, low sufas are arranged on which grave sagana are placed.
To the left of the entrance, according to local informants, Ismail Ata, a Muslim preacher (XII century), is buried. The monument bears traces of numerous repairs. On the wall of the portal in a gypsum panel there is the date of one of them - 1878 - 1879. Now restored.
Authority:
D. A. Taleev. "Code of monuments of the South Kazakhstan region." Architectural and archaeological heritage of the South Kazakhstan region. In the framework of the regional program "Cultural Heritage". http://www.farsah.kz