Rudakhi the monument.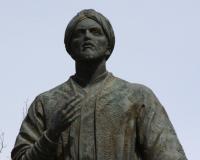 Group tours on places of interest of Dushanbe.
Abu Abdulakh Rudakhi the monument in Dushanbe is established in Park Rudaki «Bogi ustod Rudakhi» in 2007. Sculptor Alexander Rukavishnikov, artist-architect Sergey Sharov, the artist of Tajikistan Sabzali Sharipov, and also the main architect of project Sirodjiddin Zukhuriddinov.
Apart from this, there are many interesting buildings to be found in the Prospekt Rudaki. This is the name given to the Dushanbe region that runs from North to South between the Railway Station and the Bus Station.
This area is home to the city's main mosque, a XIXth Century synagogue, a Russian Church and an opera house. 
Bust Abu bdulakh Rudakhi is established on the area of name Rudakhi, before a building of the Tadjik Agrarian university in 1964. Authors - the Azerbaijan sculptor F.G. Abdurakhmanov and the architect of M. A.Useinov.
Authorship:
Javad Abed Khorasani. http://www.asraresokhan.com
Photos
Alexander Petrov.