National Library of Nur-Sultan.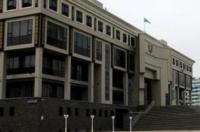 Architectural sights of the city of Nur-Sultan.
"It took me fifty years to realize that I have no writing talent. But then it was too late - by this time I managed to become famous"
Robert Benchley
A trip from Nur-Sultan to Karaganda.
The National Academic Library of the Republic of Kazakhstan (NABRK) is a multimedia library whose electronic storage is designed for many terabytes of information storage.
The library has about 20 rooms: a scientific information room, a CD room, a multimedia resource room, an Internet room, a language laboratory, an art room, a foreign literature room, a periodical room, and a children's room.
A special reading room is provided for people with disabilities. NABRK also has a conference room and a meeting room. Internet technologies enable readers to offer a range of new library services. New demanded services include reference services by e-mail, electronic backup collections, electronic subscription and delivery of documents, electronic ordering of books, electronic extension of terms for their use, various online training programs, online excursions and others.
Applications of virtual users who make a request from geographically remote areas of the country, near and far abroad are being executed. The National Academic Library has a book depository for 2 million volumes of books.
Since 2005, the library has received about 1,500 titles of periodicals. Another feature of NABRK is that the collection is equipped with special editions: with Braille, sound books, video documents with sign language and subtitles for people with disabilities.
The design of the library is also specific and has ramps - the entrance to the library for readers in wheelchairs.
Authority:
"Guide to Astana and Akmola region."