Monument to Zhambyl Zhabayev in Nur-Sultan.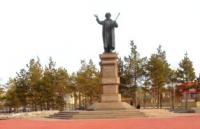 One-day sightseeing bus tours in Nur-Sultan.
"Everything that a poet writes with divine inspiration and a holy spirit is very beautiful"
Democritus.
A multi-day tourist route in Kazakhstan.
Monument to Zhambul Zhabayev is located in the city of Nur-Sultan. Monument to Zhambyl Zhabayev a gift from the Almaty region of Astana on her birthday. The sculptural statue of bronze and granite to the greatest akyn-improviser of the twentieth century, Zhambyl Zhabayev, was erected in a park along one of the busiest streets of the capital - Tashenov.
The monument to the great Zhambyl is large-scale and majestic. Only the pedestal, part of the sculpture, is 11 solid blocks of granite from the Kurty deposit in the Almaty region. The steps and the site of the monument are finished with selected granite slabs.
The sculpture itself is cast in bronze. Its total height is 12 meters. The territory of the square of 3.5 hectares is divided into recreation areas that adorn the sculptures of a tiger and a leopard. Birds of happiness Samruk, small architectural forms.
A square has been created in front of the monument, city writers can hold creative meetings here, you can relax in the park. The creators of the monument are famous for the monument to Khan Kenesary, this is the architect Kazybek Zharylgapov and sculptor Nurlan Dalbai.
Zhambyl Zhabaeyv is a great akyn, zhirshy, a unique improviser. The young akyn Zhambyl was blessed by the great Suyunbai. And he was not mistaken: subsequently a titan grew out of a youth, deeply assimilating the richest culture of oral folk art of the East.
Zhambyl Zhabayev competed in aitys with akyns Sarbas, Kulmanbet, Dosmaganbet, Shashubay and excelled everyone in his art. The fiery verses of Zhambyl during the Great Patriotic War raised n | the struggle against fascism the whole people.
His famous poems "Leningraders, my children!" mobilized the will to win the front-line soldiers and blockades of Leningrad.
Authority:
http://kazneb.kz/FileStore/dataFiles/0e/9c/1177773/content/full.pdf?time=1514570244229&key=378f3eca146ce6aaf53db8ea2d89ab46&isPortal=true