Monument of Panfilov in Nur-Sultan.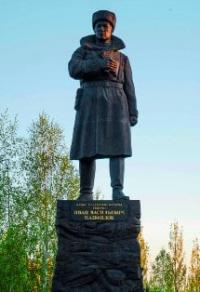 Museum tour in Nur Sultan.
"Death with glory and honor is not a sacrifice, but a feat"
Konstantin Fedin.
Tour from the city of Nur-Sultan to Lisakovsk.
The memorial complex in the Zheruiyk park, in the center of which is a monument to the hero of the Soviet Union, General Ivan Panfilov, was opened on May 7, 2015 in Astana. Monument to the hero 2.5 meters high, made of bronze.
On the eastern side of the memorial are memorial plates made of red granite for 28 Panfilov heroes who died defending the hero city of Moscow, indicating the date of their birth and death. 28 stela were made with the medal "Golden Star of the Hero of the Soviet Union".
The author of the monument is the sculptor Renat Abenov. General Panfilov died on November 18, 1941 in a battle near the village of Gusenevo, Moscow Region. In the vicinity of the Dubosekovo junction of Volokolamsk station, the villages of Nelidovo and Petelino, soldiers of the 1075th regiment of the division stopped the advance of fascist tanks.
Legends and songs are composed about the event: "A platoon dies near the village of Kryukovo...". The ashes of the soldiers were transferred to the grave of the Unknown Soldier at the Eternal Flame in Moscow. General Panfilov and his 28 Panfilov guards were awarded the title Heroes of the Soviet Union.
Authority:
Guide to Astana and Akmola region.