Monument Makatayev in Almaty.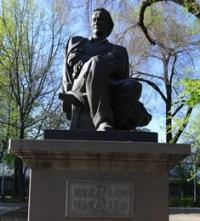 Tours in 2023 in Almaty.
"We are orphans
Alone in the world.
We are not adults and not children;
We are not afraid
And it doesn't hurt.
Globe
Like a soccer ball»
Mukagali Makatayev.
Jeep tour to Big Almaty Gorge.
The monument to the Kazakh poet Mukagali Makatayev (1931 - 1976) was erected on December 16, 2002 at the intersection of Zheltoksan and Makatayev streets. Author: sculptor N. Dalbaev. Makataev (Kazakh.
Mұқagali Magataev; February 9, 1931, the village of Karasaz, Narynkol district, Alma-Ata region, March 27, 1976, Alma-Ata, Kazakh SSR, USSR) - Kazakh Soviet poet and writer, translator. He graduated from high school. He worked as a secretary of the village council, head of the red yurt, an employee of the Komsomol organs, a literary employee of the district newspaper.
It comes from the Albanian clan. In 1954-1962 he worked as an announcer on Kazakh radio, as a teacher, in 1962 - 1972 he was the head of the department of the newspapers Socialist Kazakhstan, Kazakh Udebietі, magazines Mendeniyet Zhurnyms, Zholdyz, and from 1972 through 1973 he was literary consultant to the Writers Union of Kazakhstan.
Mukagali Makataev began to be published in 1948. The fame brought him the poem "Appassionate" (1962). The poems "Ilyich" (1964) and "Moor" (1970) were dedicated to V.I. Lenin and K. Marx. The poetry collections Hello Friends (1966), My Swallow (1968), My Heart (1972), Swans Do Not Sleep (1974), The Warmth of Life (1975), The Poem of Life (1976) ), "River of Life" (1978), "Heartbeat" (1-2 books, 1982), "Sholpan" (1984) and others were included in the golden fund of Kazakh national poetry.
Prose works were included in the collection entitled "Two Swallows" (1988). Many of Makatayev's poems are put to music. Makataev translated the sonnets of W. Shakespeare (1970) into the Kazakh language, verses by W. Whitman (1969), the poem "The Divine Comedy" by Dante (1971) and others.
In 1991, in Almaty, a street was named after him, a memorial plaque was installed on the house where he lived. In 1985, the Writers' Union of Kazakhstan established a literary prize named after M. Makatayev. In 2000, Mukagali Makataev for the collection of poems "Amanat" by the Government of Kazakhstan was posthumously awarded the State Prize of the Republic of Kazakhstan in the field of literature, art and architecture.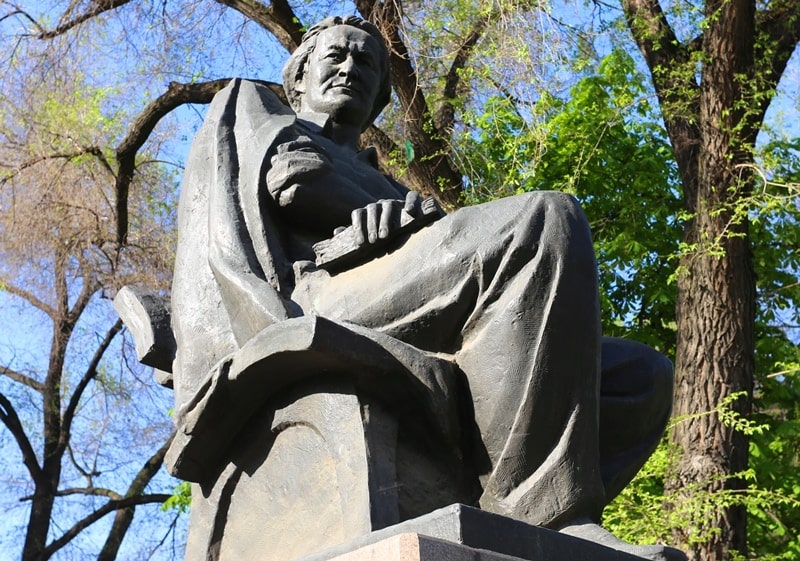 Authority:
Kazakh Soviet Encyclopedia, 1983 3. Set of monuments of history and culture of the city of Almaty Ch. Editor B. G. Ayagan, 2006.
Photos by
Alexander Petrov.